"Horizon Chase Turbo is a racing game inspired by the great hits of the 80's and 90's: Out Run, Lotus Turbo Challenge, Top Gear (SNES), Rush, among others."
- presskit 
Background illustrations, color script and visual storytelling, track tile textures, 3D props modeling, lighting, concept art, prop level design composition, day-night cycle animations.
Details of ART development by me (portuguese)
Visual Mockups and Progress of Development
Balloma was a short project of just 3 months. The game was made to supply Samsung demands for Tizen platforms games. I was responsible to make the lighting .shading and asset integration pipeline. The game has 10 stages that you need to solve puzzles with a flaming ball.
Cartoon Network Supper Star Soccer: GOAL!!! - 2016
The game is an arcade soccer game with Cartoon Network characters. It made a lot of success and there are a lot of views on youtube of its gameplay. I worked there for just 4 months how helping in the environments. I helped to create 4 environments, integrating assets, doing concepts, modeling and texturing. Also, I participated in the creative process.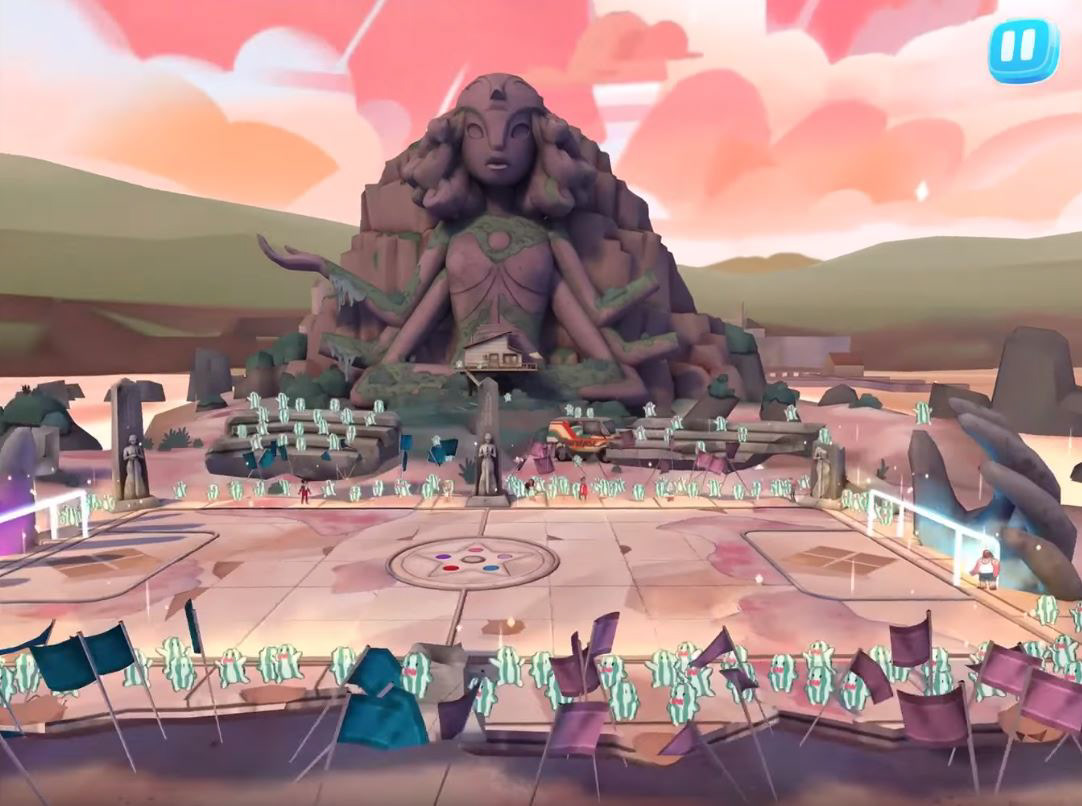 Ballistic Skins - 2014
Ballistic is a AAA game for facebook that was ported for steam. Now called Ballistic Overkill. There I created 4 skins concept. modeling and texture. I work over the original maps and meshes and, carefully, maintaining its proportions to haven't many problems with the rigging skin.
This game was made to attend all classes during the last period of my superior degree course. This is a strategy game, that contains AI, it was ported to mobile and PC and have its board game version. I was responsible for all art and UI of the project. There is an isometric Scenery, pre-rendered characters (robots) and a minimalist UI, which all its information stay hidden.
This was the first game I worked professionally. The game is a hack slash witch the character was put in an arena and the player needs to win hordes of enemies. The project takes one year of production. It was my biggest school. There I worked in all artistic aspects of the game, learning and working in each phase of creating of a game. The game uses unlit shader where all information comes from handpainted textures. The game has 120 unique weapons, 15 monsters, an interactive menu and just one environment where happen the battles.

Meu Estúdio Indie/My Indie Studio - 2014
Meu estúdio Indie is a manager of a game studio that you have to succeed. This game was based on the difficulty to create a game studio in Brazil. This game was created to compete in a national entrepreneurship contest. I planned all the features, gameplay flow, did the art and hire a programmer to implement the game-flow. I took the fifth place and this game teaches entrepreneurship to students in many Brazilian schools.
Tank Survival - 2013

This game was made in a 48 hours game jam. I was responsible for the environment assets.